Installing Smarter Mail on Windows 2008 ( Free Edition )
SmarterMail is a free mail server application for Windows Servers. The free edition contains much of the same functionality as SmarterMail Enterprise,but is limited to one domain with up to 10 users. For more info please click here.

Follow these steps to install SmarterMail:
Download the SmarterMail installer file from the

SmarterMail Download

page
Run the SmarterMail installer.

Review the End User License Agreement (EULA) and accept the terms of the EULA to continue.

Unless you choose a different installation folder, the default installation path will be C:\Program files\SmarterTools\SmarterMail.

After the InstallShield Wizard runs, SmarterMail is installed. You will now need to run and complete the Setup Wizard.
SmarterMail requires the Microsoft .NET Framework 4.0 in order to function properly. The automated installation utility will install the .NET Framework if it is required.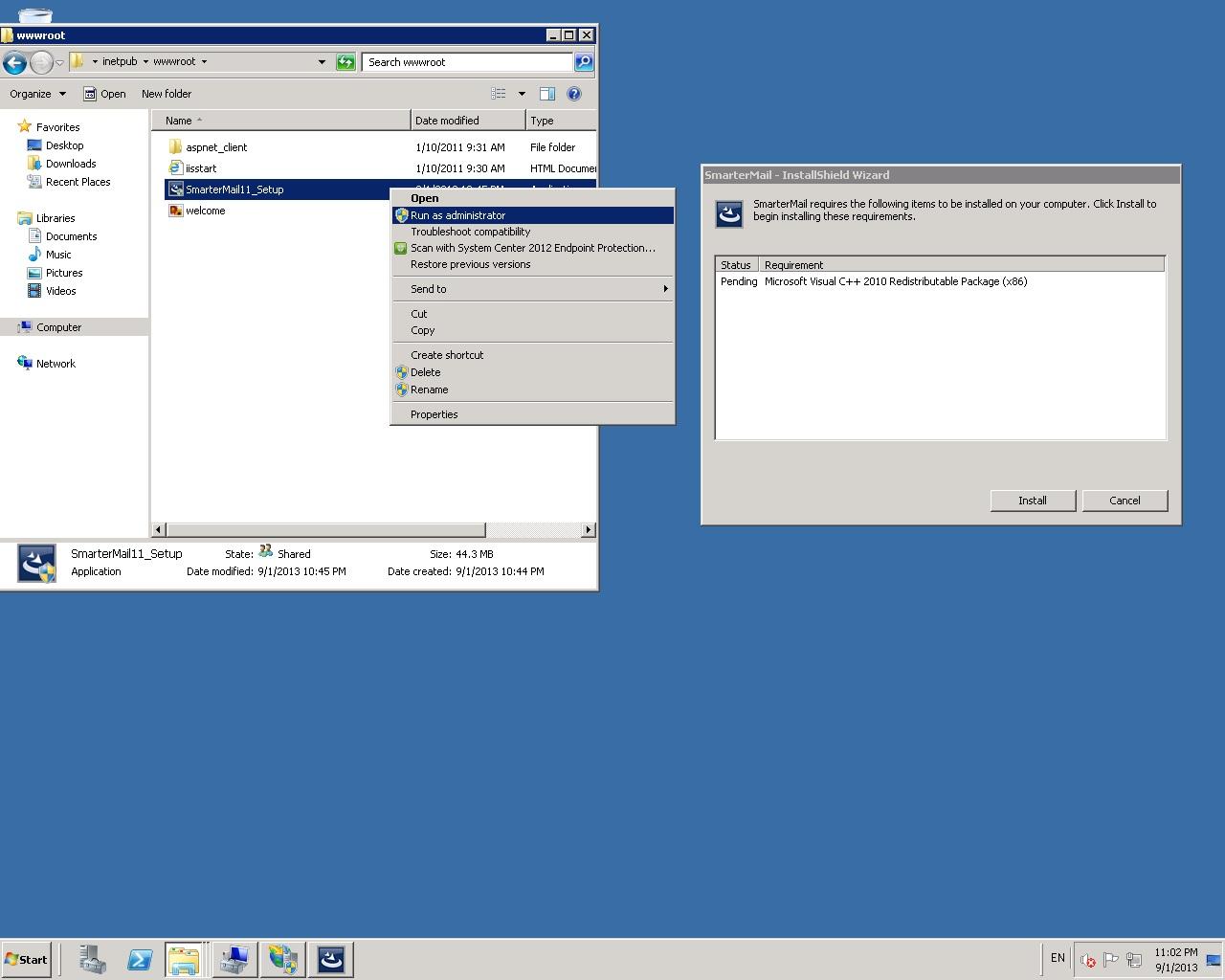 After the auto-installer completes, the Setup will open up in Internet Explorer. Please continue with it.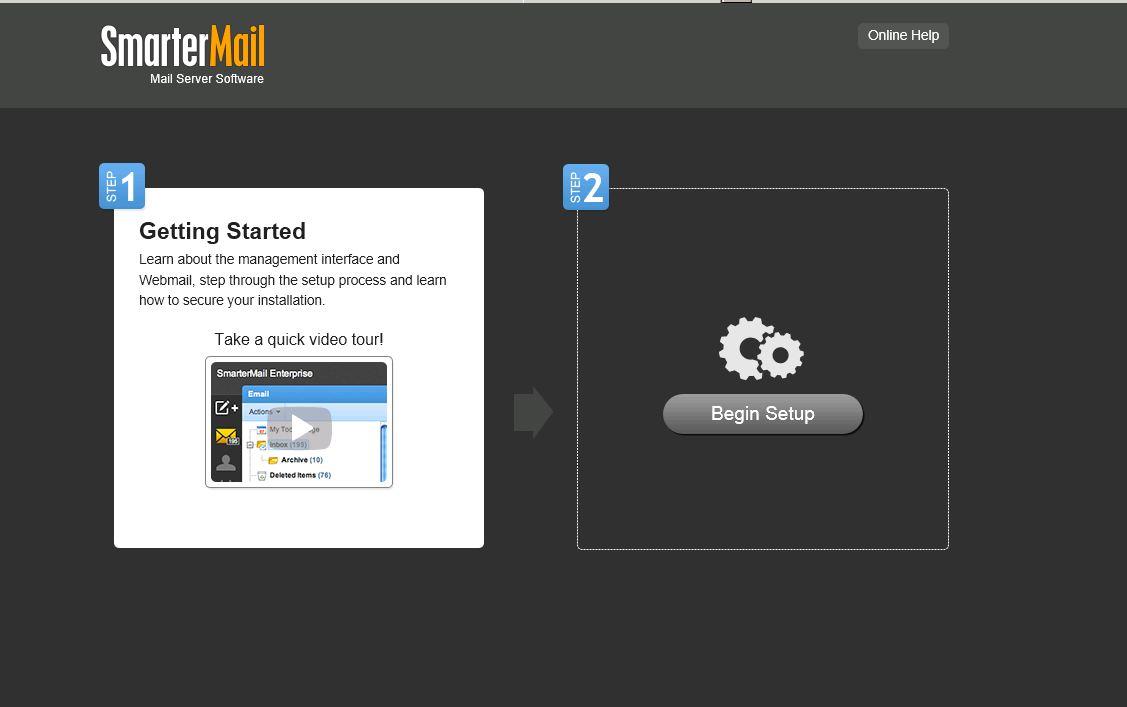 Choose an admin username and password credentials. You will need these to log to SmarterMail later on.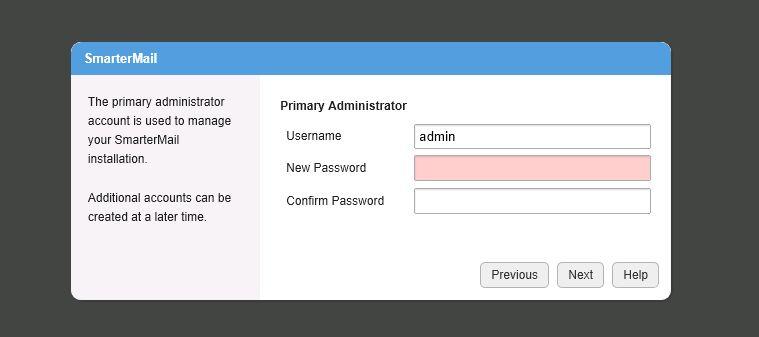 Select your server IP as the Primary IP.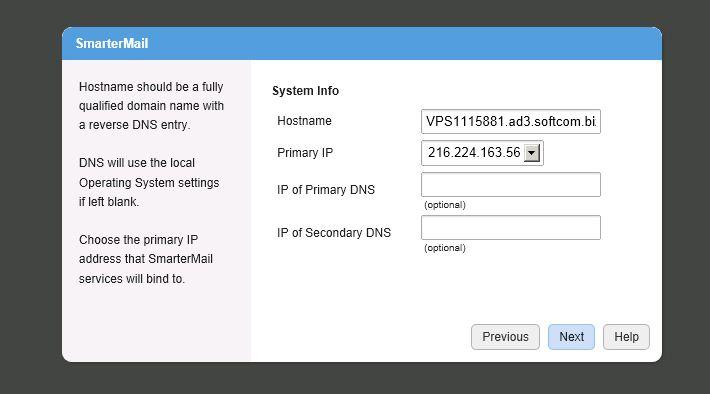 Leave the paths as default, unless you know better.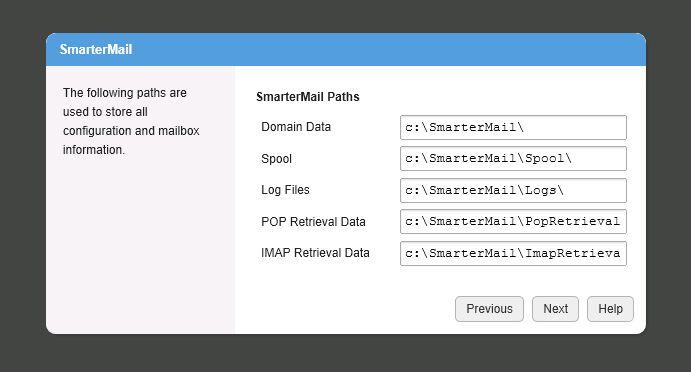 At the end of the Setup you should see this.

Let's Add a Domain.

Manage the domain that was just added.

Add User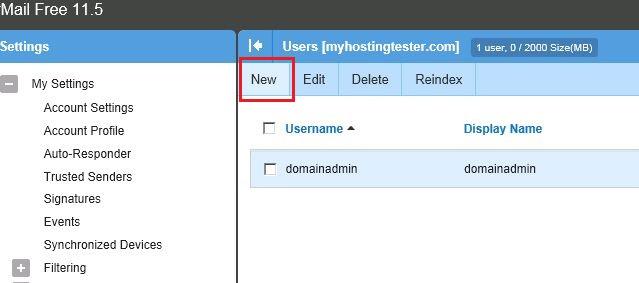 Fill out the User information. Only the basic info is required to add the user.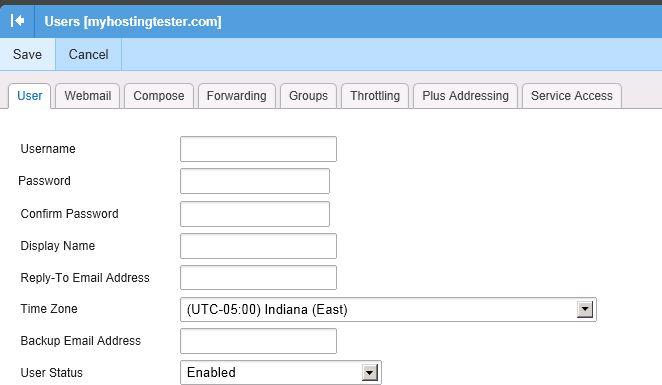 The new user has been added.

By default, SmarterMail installs a basic Web server that allows administrators to start using the application immediately after installation. However, SmarterTools recommends moving to a more robust and secure Web server, such as Microsoft IIS. For this please see the instructions on their site, Set up SmarterMail as an IIS site.
Firewall Rules
Add incoming Rule to allow Ports 110, 143 ( for IMAP) , 9998 (Webmail). Add an outgoing rule to allow port 587. Port 25 should already be allowed by default.
For a full list of other ports in the Admin View go to Settings > Bindings > Ports.
DNS
Finally to get this working, you will need to point your domain's MX records to the mail server IP you have assigned.
To test if it is resolving correctly you can go to http://www.mxtoolbox.com/ and type in your domain name.
Login through Webmail
You may may access a user's account through webmail at http://yourdomain.com:9998