How to Login to cPanel for VPS (Unskinned)
Click here for a video tutorial
How to login to cPanel.
Before you can login to cPanel, you must open your internet browser.
1) Click on your browser's address bar and enter the http address of cPanel.

The address to your cPanel would have been given to you in your welcome email. There are two ways to login to cPanel:
Using an IP address; the only way to access cPanel if your domain hasn't propagated yet.
Using your domain name; you can only do this once your domain name is working.
For the purpose of this tutorial, we're going to use the IP address method.
3) Type in the cPanel address given to you in your welcome email.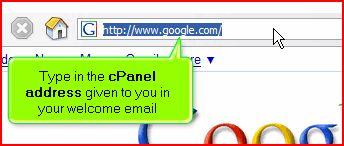 4) Click the Go button or press Enter.

5) Enter your username and password, as given to you in your welcome email.

6) Click the OK button.

That's it! You're now logged in to cPanel, and can begin to set up email addresses, add-on domains, databases, shopping carts, and dozens of other features.
To log out of cPanel, click the logout icon or text, or simply close your browser window.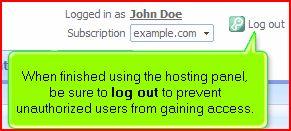 This is the end of the tutorial. Be sure to check out all our cPanel tutorials to learn how to use all the great features of cPanel.