Protecting your Entire Site
You can enable Password Protection to your entire IIS webspace site or individual directory/folder by removing the anonymous access and adding service users with web access. You need to complete the following steps to enable Password Protection for your entire site.
In your control panel, Click Websites > Click your domain name >




Click More Tools > Security Settings >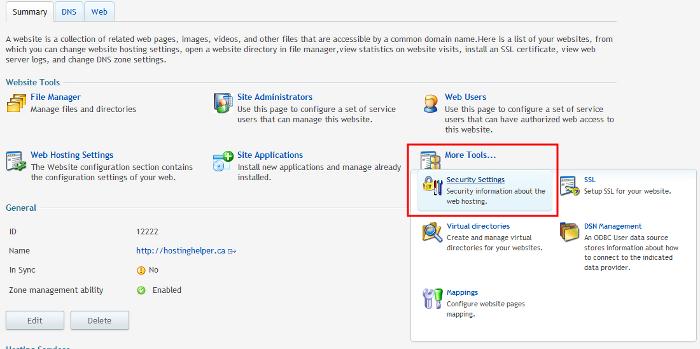 Click Edit and remove Anonymous Access.
This will prevent any public view without the proper credentials. To add users to view your block site, you would need to create Service Users. Under Site Administrator > Click Service Users > Click Add New Service User > Enter the information and Check IIS Website Management > Click Next > View your information; Click Next and Click Finish.
Protecting Individual Directory/Folder
With the services user already created, you can use File Manager to remove the anonymous access to a specific folder and enable the service user to it.
If you only want to protect individual directory/folder. Please ignore the first step.