Office 365 subscriptions may be purchased on the myhosting.com Marketplace at http://marketplace.myhosting.com/. This article contains step-by-step instructions to help myhosting.com customers purchase Office 365 through the Marketplace.
If you are an existing myhosting.com customer, note that you will need to create a new account if this is your first Office 365 purchase. All Office 365 subscriptions are managed in an account that is separate from your other myhosting.com subscriptions.
Follow these instructions to purchase Office 365.
Note: Currently, you must reside in the United States to make a purchase.
1) From the Marketplace website, select the Office 365 plan or product you wish to add.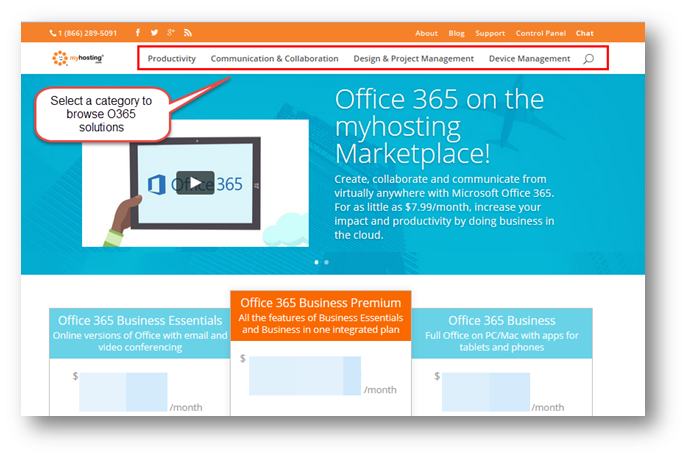 2) Enter a unique domain that will be associated with your Microsoft service. Click to verify the address. If your desired tenant domain is not available, choose another.
3) Select any additional seats you may need for each product and click continue.
4) Choose if you want to add any additional services including our Lightning Email Migration services.
a. If you click yes, the available services appear below. Click on the Buy button to add.
b. Configure your Lightning Email Migration setup. This includes scheduling a callback from one of our migration experts.
c. Choose the date and time that works best for you and include any migration notes that you feel will help the migration team. You can also add additional seats here before continuing.
5) Register a new domain or use an existing domain.
6) Continue to the terms and conditions of the myhosting.com Marketplace. Review and print for your records. Accept and continue.
7) Review your order and enter account details.
8) Enter payment details.
9) Click the box to confirm that you accept the myhosting.com Marketplace privacy policy and terms.
10) Place order.
Your order may take several hours to provision. Once it has been provisioned, you will receive a notification email with further instructions on how to use your Office 365 plan.
Thank you, a myhosting.com representative will be in touch shortly.