New Features in Windows 2008 and IIS 7.0
Included with all Windows-based hosting plans activated on February 28, 2008 or later is the Windows 2008 Operating System and the IIS 7.0. But what's new and different in this new platform?
Directory Structure & Security
When you connect to your site by FTP you'll notice a few new directories. All the files you want to be accessible on the internet should be placed within your /wwwroot folder. Any files or directories below your /wwwroot folder will not be accessible on the web. This is a great security feature if you want to save files online on your site, but do not want visitors to your site to be able to see them!
Full Trust
Due to the updates in Windows 2008 and IIS 7.0, we're now able to extend Full Trust for all .NET and ASP.NET applications! This is done in a safe and secure way so that your site is protected while still allowing you to make use of all the features that Full Trust affords you.
IIS7 Delegation Features
You can manage the IIS7 settings and delegation features for your site using the Internet Information Services (IIS) 7.0 Manager application! This gives you more control over the features of the web-server that you want to customize.
WIN32 CGI and FrontPage Server Extensions
WIN32 CGIs are no longer supported under Windows 2008 and IIS 7.0. Also, FrontPage Server Extensions are no longer supported. We urge all FrontPage users to upgrade to Microsoft Expression Web at a discounted price!
Password Protection
With .NET and IIS7 you can create your own Password Protection feature for free! Our password protection feature that was available with Windows 2003/IIS6 hosting accounts is not compatible with and therefore no longer available for Windows 2008/IIS7.
And for even more details about the new platform, please refer to our web site!
Identifying Your Account as Windows 2008 & IIS7
The easiest way to tell what platform your hosting plan is on will depend on when you signed up. If you signed up on February 28, 2008 or later for the Premium or Professional plan, then the Windows portion of your site will be hosted under Windows 2008 with IIS7. If you signed up before February 28 your Windows account will be on Windows 2003 with IIS6.
To check if your hosting plan is a Windows + Linux plan or a Linux-Only plan, you can refer to your list of domain names in the control panel. All Linux-Only plans will have Linux in the plan name. All Windows + Linux plans will not.
Default Directories
The following directories are set up by default with your Windows 2008 & IIS7 hosting plan.
Directory

Sub-Directory

Description

\Log

\FTPSVC

FTP Log files are saved here.

\W3SVC

WWW Log files are saved here.

\Temp

Any ASP.NET temp files are saved here. If there is no ASP.NET usage on your site this directory may not appear.

\wwwroot

All the files located in this directory are web accessible through your web site.

\FTP

This is the home directory for the Anonymous FTP user. Only place

files here that you want to be accessibly by anonymous visitors to your

site.
IIS 7 Manager
You can access your Windows 2008/IIS7 based web hosting account using the IIS7 Manager tool. Please note that this will apply only to the Windows-based portion of your hosting account if you have signed up on February 28, 2008 or later.
Once you have installed the tool on your computer, you can follow these steps to make the connection.
From IIS7 Manager click

File

and then

Connect to a Site...

Enter the following details:
Server name:

your domain name

or

your IP address

Site name:

your domain name

And then click

Next

.
Enter the following details:
User name:

your admin ftp user name

Password:

your admin password

And then click

Next

.
Choose a name for your connection and then click

Finish

.

You will then be connected to your site and will be able to edit the IIS and ASP.NET settings directly on the server.
Directory Permissions
By default, every directory under your account already has read, write and execute permissions already set, so there is no need to adjust permissions on a per-file or per-directory basis.
FrontPage Server Extensions
Currently we do not support FrontPage Server Extensions on our Windows 2008 servers. FrontPage Server Extensions and the FrontPage product have been discontinued by Microsoft. You can still use FrontPage to create your site (and upload it by FTP) but any content requiring FrontPage Server Extensions will not work on our Windows 2008 servers.
We recommend all customers who already own a copy of FrontPage purchase an upgrade to Microsoft Expression Web. Customers who already own a license for FrontPage may receive a discount on the Expression Web software.
FTP over SSL
We support FTP over SSL for all Windows 2008/IIS7 accounts created on February 28, 2008 or later. Simply change your connection method in your FTP client from FTP to FTP over SSL (explicit encryption) and use the same username, password and port number to connect with.
FTP over SSL (explicit encryption) is supported in most FTP clients, including FileZilla and FTP Voyager
WIN32 CGI Executables
No, WIN32 CGI Executables are not supported under our Windows 2008 & IIS7 platform.
Storing Files That Are Not Web Accessible
All Windows hosting accounts activated on February 28, 2008 or later under the Windows 2008 & IIS 7.0 platform include some new options for storing files online.
When you first log into your account by FTP you will notice a /wwwroot directory. This is where you put all the files that you want to be visible or accessible through your web site. But you can also upload files to your account that aren't accessible in the browser. This can be done simply by creating a directory outside of the /wwwroot directory and placing your files there.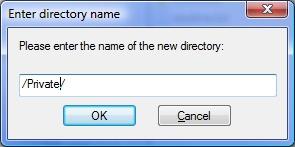 Any user with administrative FTP access to your account will be able to view this directory. Also, you can create additional FTP users and grant them access to the folder. However anyone visiting your web site with a browser will only be able to see files under the /wwwroot directory.