Managing Your Webspace
To manage various features of your Windows or Linux Shared Hosting account, you can follow these steps.
1. Log into your account at https://manage.myhosting.com/
2. If you have more than one account, select the Shared Hosting subscription you want to manage from the list
3. In the left navigation menu, select Sites & Domains
4. You should then see a list of 1 or more domain names linked with your web hosting, mail hosting and content management. Click on the domain name of the subscription you want to manage.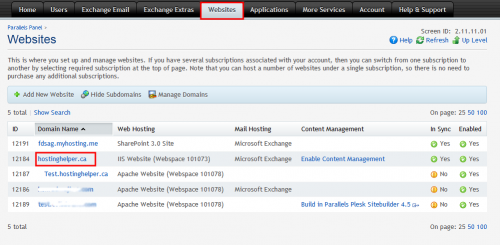 5. The next page will present you with a number of options and sections that will allow you to control your shared hosting account.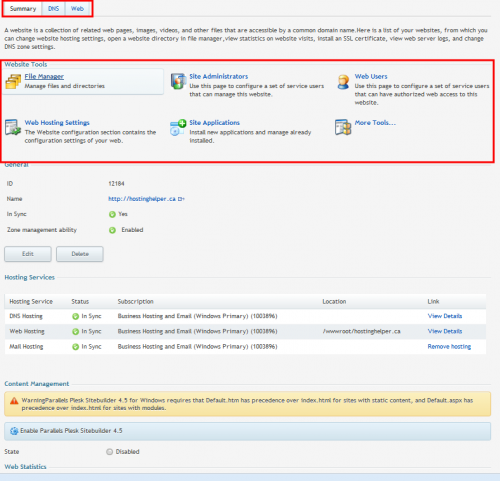 Web Hosting Settings: Manage various aspects of your webspace including Scripting Support, FTP, Default Documents, Error Documents, MIME Types and more.

Site Administrators & Web Users

: Create user accounts so others can access your hosting service with their own credentials.

File Manager

: Access the file system of your web hosting account to upload, download or manage files and permissions.

Other areas include SSL, Security Settings, Mappings, Virtual Directories and DSN Management

From this page you can also manage Hosting Services, Content Management if you want to use our Site Builder tool, and Web Statistics

.

If you select the DNS

tab at the top of the page, you can also add, remove and manage DNS records associated with your domain.
Instant Access URL
If you are unable to reach your site properly, you may view your website using your Instant Access URL. You can locate this from your control panel at https://manage.myhosting.com then click on "Sites & Domains", then click on your Domain Name, and finally under "Website Tools" click on "Web Hosting Settings". The URL located in the "Basic Settings" section is your Instant Access URL and you can use it immediately to view your web site